Posted on December 11, 2014 by Estelle
Recipe for a pandan sponge-cake (English)

Ingredients:
5 eggs
160 gr. White sugar
100 gr. Self raising flour
Baking powder
Oil (any kind)
Salt
Pandan essence
Water
Chiffon-cakeform or Turban cakemold (prefer aluminium for the best result)
Preparation: (pre-heat your oven at 3,5 or 175°C)
Split the egg-yolk from the egg-white in 2 separate bowls
Put 60gr white sugar into the egg-yolk bowl
Put 100gr white sugar into the egg-white bowl
Put 1 teaspoon of salt, 2 teaspoons of pandan-essence and 2 tablespoons of water into the egg-yolk bowl and stir all
Whip the egg-white with 100gr of white sugar for about 10 minutes, till the substance has peaks.
Then put the pandan substance into the bowl with the egg-white substance and stir gently.
In the meanwhile take 100gr of self raising flour and 1 tablespoon of bakingpowder and sieving both into the pandan substance. Put 5 tablespoons of oil to the substance and stir gently.
Take your chiffon-cakeform and start with putting some of the substance on the bottom, then put the rest of the substance into the chiffon.
Put the chiffon-cakeform into the preheated oven and bake it for about 45 til 60 minutes.
chiffon cakeform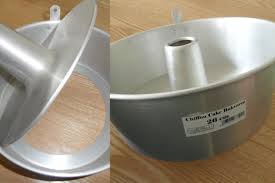 Turban cakemold
Pandan essence